Authentic Caribbean Cuisine
Come discover the fresh and bold flavors of the Caribbean
without packing your luggage.
We serve the freshest and most authentic Caribbean cuisine in the city. We combine the freshest local ingredients and family recipes to provide you with a satisfying meal that you won't find anywhere else!
Our restaurant specializes in authentic Caribbean cuisine served in a casual and friendly atmosphere.
Our menu features both traditional Caribbean dishes along with our own one-of-a-kind creations.
We invite you to experience our delicious Caribbean cuisine for yourself. Come visit us today!
Check Out Our House Specialties
 
Oxtails Entree

One of our signature house specialties! Simmered all day and seasoned to perfection. Our family recipe will not disappoint. 
14.99
Jerk Chicken Entree

Taste the Caribbean with our signature Jerk Chicken. Juicy, fresh and perfectly prepared. You will want seconds! 3 pieces of our signature Jerk Chicken and a choice of two sides. 
12.99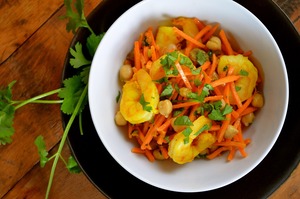 Shrimp & Veggies Entree

Looking for a lighter option? Our Shrimp and Veggie entree option is perfect for those looking for a waist-watching meal. Freshly prepared with our family's spice blend. Shrimp entree comes with 2 vegetable sides. 
21.99
Tropical Seafood Soup

An amazing assortment of lobster, clams, muscles, crab and red snapper slow cooked and served as a soup over linguine.
24.00
Let Us Cater Your Next Event!
We offer both private parties and off-premise catering for any occasion.
What Our Customers are Saying
★★★★★
"Fresh and delicious! All that was missing was the sound of the ocean and the sand between our toes. We highly recommend making a stop here...truly a taste of the Caribbean!"
- Kevin Z.
★★★★★
"Authentic Caribbean! We have finally found a Caribbean restaurant in our area that makes authentic Jerk style food. I highly recommend stopping here to enjoy the food!" 
- Jennifer G.
★★★★★
"Hot & spicy is the way I like it! This is the best Caribbean restaurant in the state! From their helpful staff to their tropical themed restaurant, this place has it all, definitely recommended." 
- William T.